Big congratulations are due to the Notion team—Notion 5 was just recognized in Teach Secondary Magazine's April issue. Reviewer Steve Lea states, in part:
"Notion 5 is an ideal package for anyone wanting easy-to-use notation software on a budget. If you are using primarily for teaching score-writing or producing exam coursework then it has more than enough for your needs. And if you don't need the full functions of the bigger market leaders, then it is a real winner!"
Click here to read the article in full [PDF], or find a copy of Teach Secondary Magazine online or in print.
---
By now you should realize that we think the Sceptre High Definition CoActual Studio Monitors and the Monitor Station V2 Desktop Studio Control Center are a match made in heaven. And they are, but like all great couples, they are also amazing individuals in their own right… so amazing, in fact, that they each received back to back awards as part of glowing reviews of their character. I guess you could can start calling them our studio "power couple."
Sceptre S8 Receives Everything Audio Network "Stellar Sound Award"
"The first audible attribute I noticed on casual play of 24/192 music, was how accurate the Sceptres are. The speakers have an audiophile­-class midrange and top­ end with a focused, tight bottom end in the 50­Hz to 100 Hz range. Most powered pro speakers that sound this good are well above the $1,000 per speaker. I am impressed… Consequently, we have awarded it our Everything Audio Network Stellar Sound Award."
Read the full Sceptre S8 Review at the Everything Audio Network
Monitor Station V2 Receives AudioFanzine "Best Product 2014" Award
"The Monitor Station is back with a new S/PDIF input and several improvements (speaker level controls on the rear), while preserving the features it's known for. In practice, the Monitor Station revealed itself very pleasant to use.  If you are looking for a somewhat advanced monitor controller with a talkback circuit for $300, you should definitely consider the Monitor Station"
Read the full Monitor Station V2 Review at AudioFanzine.com
---
Sceptre reviews are starting to roll in more commonly these days, but we were really flattered by this kind review from MusicTech.Net, which gave the Sceptre S8s a 9/10 and the S6 an 8/10. Tremendous thanks to MusicTech, we owe you guys.
From the review:
"First impressions are of tremendous clarity and a wide-open stereo picture. With acoustic recordings, the degree of air around the instruments is quite remarkable. Frequency response seems very even as well, with no discernible anomalies present in the midrange, and there is no appreciable change in timbre as you move around the listening position."
Click here to read the full review,
For more on the Sceptre monitors, click here.
Interested in hearing them for yourself? We recommend you do. If you're in the US, click here to find a dealer. Folks outside the US can find a dealer by clicking here.
---
The nice folks over at BoKsis just posted this flattering review of the Central Station PLUS, awarding it 4.3/5 stars! Thanks, guys! We, in turn, would like to award you 5/5 stars. Readers can, and should, read the full Central Station review, and many other reviews of cool stuff from BoKsis, by clicking here. While you're waiting for that page to load in another tab, here's a taste of what's to come:
"The feature count is high, the sound quality is very good and it is a thoroughly well designed and built unit."
---
The kind folks at Resoution Magazine recently put the Eris E8 studio Montiors through one of their signature, exhaustive bench tests. We're pleased to report that Keith Holland from Resolution liked not only what he heard, but also what he measured.  Here's a snip.
"Overall the PreSonus Eris E8 is an excellent performer, especially at low frequencies. The designers have managed to combine a protected, extended low-frequency response and low distortion with an accurate low-frequency transient response. The other aspects of the performance do not disappoint either, with good time and frequency domain responses and controlled off-axis behaviour."
You can read the entire bench test in Resolution's October issue, available in digital form here. 
---
As anyone who uses it knows, with Studio One the hits don't stop. We just discovered this incredibly flattering, video-peppered review from Ruprect at Recording Review. In it, they state: (among other things)
"I literally stopped using Logic after spending maybe 2 hours with Studio One. Granted, I was excited about learning something new but the switch was surprisingly painless. Fast forward a few months and I'm faster with Studio One than I ever was with Logic. The main reason is that simple tasks I perform numerous times in every mix are streamlined a little."
Big thanks are due to the Recording Review crew. Their website is chock-full of many other reviews that you should read as well, and they also offer a number of great articles on all elements of the audio recording process. Check 'em out.
Click here to read the review in full and watch a batch of highly informative Studio One videos!
---
This kind review of our latest golden boy,the ADL 700 tube mic preamp, comes to us from the informed masterminds at Amazona.de. Naturally, this one is written with the German-speaking crowd in mind. If you don't speak German but DO have Chrome installed, you've got a translator built right into your browser to help you out!
Amazona has gone a step above and beyond in this review by not only detailing all the nitty-gritty technical specs, but they've also included several audio demos of the ADL 700. Click here to read the review in full and hear it for yourself.
Roughly translated, you'll find such laudatory praise as "The PreSonus ADL 700 is a professional device that costs less than it sounds. A suitable candidate to compliment a serious outboard collection. Sonically, a big thumbs up."
---
[This just in from Seth Waters of Interpose Productions!]
Hey PreSonus! I just got the speakers. Here is a pic of them in the control room, as well as my review.
So, I just got my PreSonus
Sceptre S8
's today and I think my brains leaked out all over my desk.
I upgraded from Yamaha HS8OMs. I can't say that there is ANY coloration. The Sceptres revealed details in my old mixes that I used to wonder about. Since listening to them through these s8's I was instantly able to pinpoint areas I could have made better.
I tried to find a spot in my control room where I couldn't hear the stereo image and I couldn't find one. I might never buy another studio monitor.  Thanks to PreSonus, I'll be cleaning brain matter off my desk now.
Seth Waters
Interpose Productions
Iron River, MI
---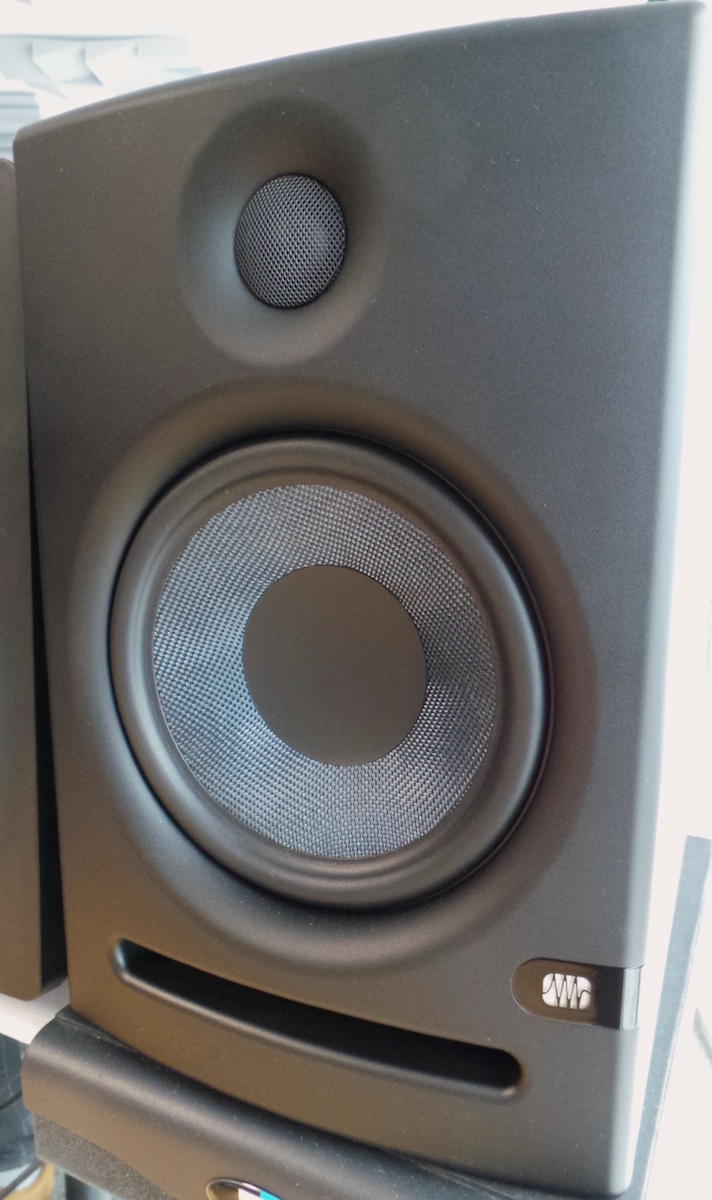 In their incredibly thorough review, AudioFanZine put the Eris E8 through its paces and it would seem as though the monitor didn't even break a sweat. I won't waste any of your time getting all meta- and reviewing their review—suffice it to say that we're flattered. Instead, a snippit:
"For their first attempt in the monitor speaker market, PreSonus start with an already technically mature product. The Eris E8 offers high-quality construction, comprehensive input connections and extensive setting possibilities (low-cut filter plus low, mid and high filters) at an affordable price ($250 for a single monitor). During our listening sessions, the speaker seduced us because it reveals no real weakness. The frequency response is very smooth, even smoother than the Mackie we liked so much two years ago, all frequencies are reproduced effortless. This also applies to the dynamic range and the stereo imaging. This E8 monitor speaker is the autumn hot deal in the lower mid-class market segment."
---
Lucky Eddie! He is among the first to receive and install a brand-spankin' new StudioLive 32.4.2AI at his venue. He created this great walk-through video walking us through his applications for That 80s Bar.  Thanks Eddie, and best to you and your mixer.
---