This is one of the better episodes of PreSonus LIVE that we've done for a while—no bandwidth problems! Amazing! In it, PreSonus tech support guru Dominic "TicToc" Bazile takes us on a tour of the new Temblor T10 Subwoofer and Eris 4.5 studio monitors. This combination is an ideal way to bring some real rumble to a modest home studio—if you want it. The Temblor's foot-switchable bypass can tone things down when the neighbors start complaining.
For more on these products, watch the video—duh. But for even more more, click the following links:
---
The new Eris studio monitors are showing no signs of slowing down. In fact, they were recently recognized with AudioFanZine's "Best Value" award, and here's just a sampling of the praise that they've earned so far from others:
PreSonus has a reputation of making great products "for the rest of us," and the Eris speakers follow that philosophy." - Jon Chappell, Harmony Central
"Setting them up in my humble (yet effective) home studio for a few months helped me hear things I wasn't hearing previously and helped me to provide better mixes for my clients." – Eli Crews, Tape Op
"The PreSonus Eris E5 and E8 are quality made, well­ equipped and good-­natured active speakers for near field… Five Stars" Felix Klostermann, Bonedo.De
It just so happens that in April 2014, we're cutting the price back a bit on these guys. The Eris E5s are available for $50 off per pair, down to $250, (USD) and the E8s are available for $100 off per pair, down to $400!
You are NOT going to find better sonic bang for your buck no matter where you look. Furthermore, there's no rebate forms to mess with and no waiting times, just quick 'n' easy $avings.
This offer is available in the US and select markets outside the US. Click here to find a US dealer or check with your local distributor for availability in your region.
---
Alright! The very first hot-off-the-hard drive review of the Eris 4.5 just got a kickin' video review from Fred Caplongo at HomeTracks. Fred's review is also a full-on unboxing, so you can see all the cool manuals, stickers, and foam inserts that ship with the Eris 4.5; standard. Don't say we never gave you nuthin'!
Fred says, "PreSonus has really thought of everything… You get every bit of that 70Hz in these speakers. I don't know how they do it, because they're pretty small…  If your budget for monitors is $200, you've got a good choice in these speakers. "
If you are interested in the Eris 4.5, click one of the following links to find a dealer:
Category Eris |

1 Comment

»
Posted by Ryan Roullard
---
Kind press folks the world over swung by our booth at NAMM 2014, cameras in tow on tiring shoulders. Here's some clips from AudioSavings exploring the StudioLive AI mixers, SL Room Control, and the Sceptre and Eris monitors. More videos from other sources to come!
StudioLive AI Mixers:

SL Room Control app:

Sceptre and Eris monitor speakers:

---
Thanks to the kind folks at Crossfadr for this review of the Eris E8s, which are currently enjoying some great momentum due in no small part to support from teams like theirs. A quick highlight:
"Ultimately, someone looking to setup a home studio or who needs portable monitors ought to go with the PreSonus Eris E8. The quality's professional level, the functions are versatile, and the design is fairly portable – so how much more could you want?"
Read their full review by clicking here.
Category Eris |

0 Comments

»
Posted by Ryan Roullard
---
In the spirit of kinda obvious marketing mnemonics, let's sale-a-brate! Got a bundle of yuletide cashflow burning a hole in your stocking? Why not use some of it to get more PreSonusbang for your giftbuck? Here's our monthly all-in-one-wrap-up of the best ways to not spend all of your money.
---
Buy Sceptre Monitorss, get Monitor Station FREE – a $299 value!
Click here for the full details, but here's the gist: Purchase a pair of Sceptre monitors, and get a FREE Monitor Station. Knowing how your mixes will translate in multiple listening environments is of paramount importance to professional audio production, and nothing does it better than the Monitor Station.
Add this single-purchase setup to your existing monitor rig and transform yourself from a mixing greenhorn to a production powerhouse.
Get the Sceptre/Monitor Station rebate form by clicking here.
---
Buy Eris E5 or E8 monitors, get Studio One Artist, for FREE, a $99 value
If you're going to get a pair of reasonably-priced, incredible-sounding speakers, it would do them (and you) a disservice to use less than a reasonably-priced, incredible-sounding DAW. For a limited time, if you purchase Eris E5 or E8 monitors, we'll throw in Studio One Artist, FREE! No rebate forms required on this one.
All you need to do is purchase your monitor(s), and visit the brand-new my.presonus.com and register them. The download link for Studio One Artist will appear in your account. Note that you will only receive a single copy of Studio One per pair of monitors purchased. This offer ends March 31, 2013.
---
Buy an AudioBox 1818VSL before January 31, 2014, get an HP4 Headphone Amplifier FREE
These two products make a great team. The AudioBox 1818VSL offers eight XLR inputs. And if you need eight inputs, you probably have more than one musician in the room, which would imply that you need a few different headphone mixes for monitoring. Unless, of course, you're recording an octopus playing eight single-note melodies on eight different monophonic synthesizers.If that's the case, please invite me to your Christmas party.
The AudioBox 1818VSL allows for monitoring your recording with effects but without latency, and when combined with the HP4 headphone amplifier, this game-changing experience can be shared with three of your friends. This offer ends January 31, 2014.
Click here to get the rebate form for your free HP4 headphone amplifier.
---
If you're in the US, click here to find a dealer. Folks outside the US can find a dealer by clicking here.
---
The kind folks at Resoution Magazine recently put the Eris E8 studio Montiors through one of their signature, exhaustive bench tests. We're pleased to report that Keith Holland from Resolution liked not only what he heard, but also what he measured.  Here's a snip.
"Overall the PreSonus Eris E8 is an excellent performer, especially at low frequencies. The designers have managed to combine a protected, extended low-frequency response and low distortion with an accurate low-frequency transient response. The other aspects of the performance do not disappoint either, with good time and frequency domain responses and controlled off-axis behaviour."
You can read the entire bench test in Resolution's October issue, available in digital form here. 
---
---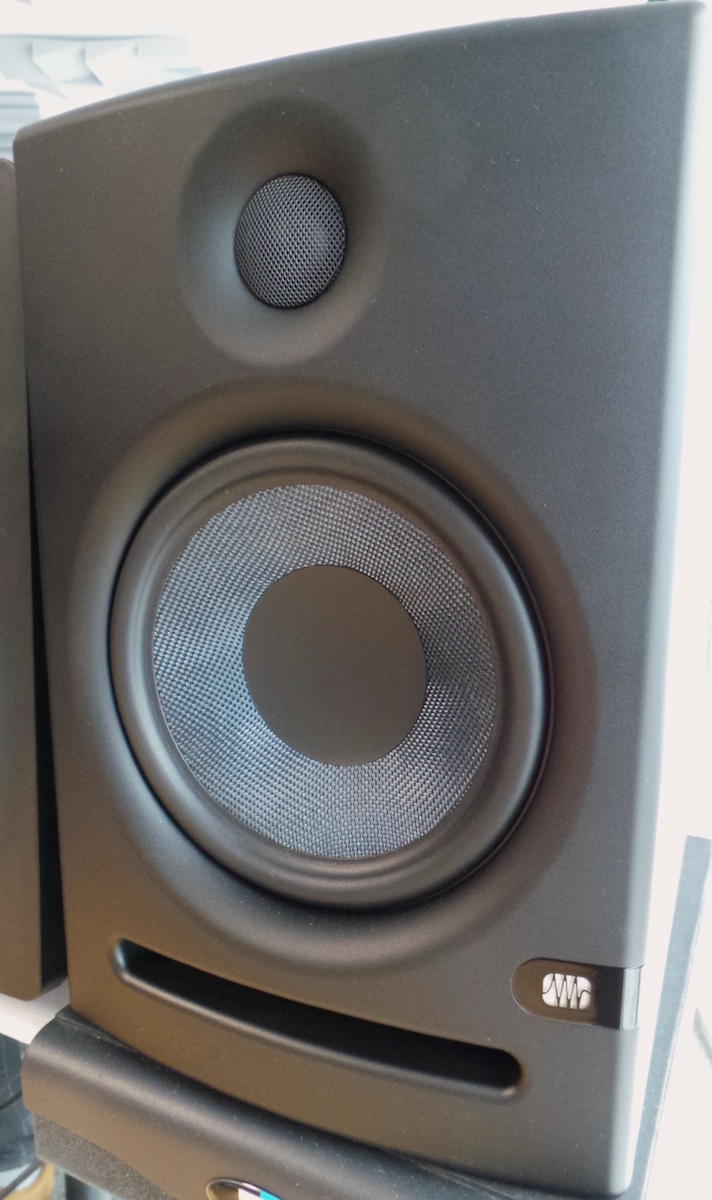 In their incredibly thorough review, AudioFanZine put the Eris E8 through its paces and it would seem as though the monitor didn't even break a sweat. I won't waste any of your time getting all meta- and reviewing their review—suffice it to say that we're flattered. Instead, a snippit:
"For their first attempt in the monitor speaker market, PreSonus start with an already technically mature product. The Eris E8 offers high-quality construction, comprehensive input connections and extensive setting possibilities (low-cut filter plus low, mid and high filters) at an affordable price ($250 for a single monitor). During our listening sessions, the speaker seduced us because it reveals no real weakness. The frequency response is very smooth, even smoother than the Mackie we liked so much two years ago, all frequencies are reproduced effortless. This also applies to the dynamic range and the stereo imaging. This E8 monitor speaker is the autumn hot deal in the lower mid-class market segment."
Category Review |

1 Comment

»
Posted by Ryan Roullard
---
The reviews for our new Eris monitors are pouring in, and, well. We're happy. Currently the Eris speakers are enjoying a five-out-of-five AVERAGE user scores at Guitar Center AND Sweetwater, and we just can't help but feel like celebrating. History has shown that the best way to share that celebratory spirit is to give away free kick-ass stuff. In this case, it's Studio One Artist. Don't forget to grab the free 2.6 update when you install it!
From a couple of days ago until March 31st, you'll get Studio One Artist FREE if you purchase a Eris E5 or E8 monitors. This offer is available worldwide.
All you need to do is get your monitor(s), and visit the brand-new my.presonus.com and register them. The download link for Studio One Artist will appear in your account. Note that you will only receive a single copy of Studio One per pair of monitors purchased.
Some readers prefer user reviews, others want to know what the pros have to say. Well, here's a bit of that:
PreSonus has a reputation of making great products "for the rest of us," and the Eris speakers follow that philosophy." - Jon Chappell, Harmony Central
Setting them up in my humble (yet effective) home studio for a few months helped me hear things I wasn't hearing previously and helped me to provide better mixes for my clients. – Eli Crews, Tape Op
"The PreSonus Eris E5 and E8 are quality made, well­ equipped and good-­natured active speakers for near field… Five Stars" Felix Klostermann, Bonedo.De
---