Don't get me wrong here, as I don't want to huff and puff too much. We've received a few technology awards over the years, and we're proud of that. But this award is something a little different, for two reasons. First, it's not so much a technology award as it is an attitude award. Second, it's the first.
Sorry, that doesn't make much sense. What I is that this is the first-ever "Customers in Focus" award that has ever been given to anybody. And it's been awarded to Studio One, from the kind folks over at DAWfreak.se.
Via the DAWFreak.se blog:
"The Customers In Focus AWARD is a completely new award from DAWfreak.se. This award is meant to highlight companies that stand out from the crowd by always making sure that their customers feel they get what they paid for, not only through updates and fixes but by listening to the customers and always providing a good support, helpful tools and other features that shows they care for their customers."
Click on over to DAWfreak.se to read the review in full!
---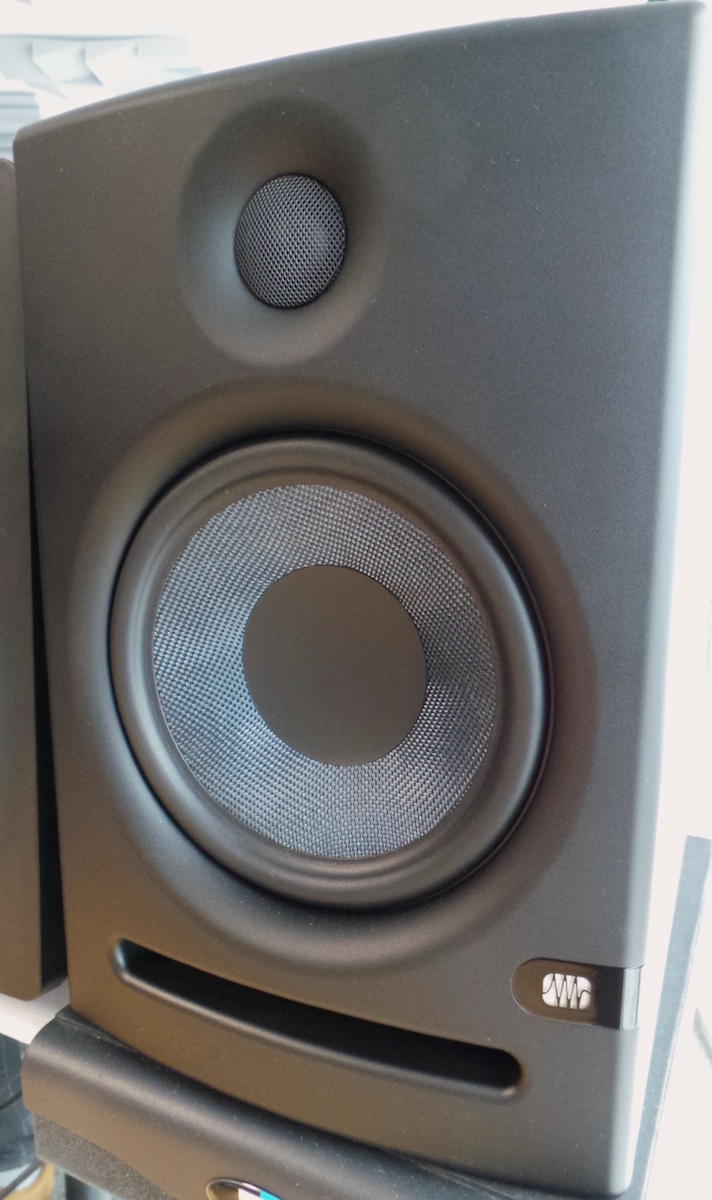 In their incredibly thorough review, AudioFanZine put the Eris E8 through its paces and it would seem as though the monitor didn't even break a sweat. I won't waste any of your time getting all meta- and reviewing their review—suffice it to say that we're flattered. Instead, a snippit:
"For their first attempt in the monitor speaker market, PreSonus start with an already technically mature product. The Eris E8 offers high-quality construction, comprehensive input connections and extensive setting possibilities (low-cut filter plus low, mid and high filters) at an affordable price ($250 for a single monitor). During our listening sessions, the speaker seduced us because it reveals no real weakness. The frequency response is very smooth, even smoother than the Mackie we liked so much two years ago, all frequencies are reproduced effortless. This also applies to the dynamic range and the stereo imaging. This E8 monitor speaker is the autumn hot deal in the lower mid-class market segment."
---
Here's a look at some of the "Why StudioLive" submissions that left us scratching our heads a bit. Laudable efforts all around made memorable with just a dash of mystery.
The David Lynch Palme d'Or Awards:
Scott P.'s "Digital Reflections" Explores an everyman's StudioLive experience as viewed through the populist lens of stillwater kayaking.

Eric P's "Agent Tiny e" Originally titled "The Blair Mixer Project," this submission left our viewers both shaken and stirred.

Entrant unknown's "Aw shucks," makes us happy and confused in equal measure; it's entries like this that make us feel OK about the fact that sometimes people don't read the rules.

---
Another solid gold cover from the StudioLive fans over at Frog Leap Studios, who maintain a consistently high rate of quality, creative output. Thanks guys!
---
It stands to reasons that musicians would make music videos, right? Some of these turned out to be incredibly funny.
Best Comedies and Musicals:
Dave E's "Give it to Me" was one of the earliest submissions, and we were amazed the he cranked out such an incredible production in such short time, and deserves special recognition for that alone. I wound up with this song stuck in my head while trying to fall asleep many times in the past several weeks.
Leslie C.'s smooth, contemplative exploration of the subject at hand left some of us bewildered, but most of us chuckling in "Ain't no Dummy"
StudioLive Preacher's "Why StudioLive" video was an early favorite of mine, but Carl thought it was "Too weird." I think the real issue here is that Carl isn't weird enough.
Dan C.'s "Why Anyone Should have a StudioLive" asks—and answers—many of the most pressing questions of our day.
Jeff N.'s "Digital World" brings us something we've needed for a long time: a PreSonus theme song!

Matt F's "Presonus Rhyme" is the feel-good hit of the fall. Watch out, Jay-Z.

Andrew R's video boldy mixes the dispariging influences of 2NU and Rod Serling to great affect in "My Town PreSonus."



Stay tuned for a future post in our next category: The David Lynch Palme d'Or Awards!
---
---
PreSonus' Rodney Orpheus and Sonic Sense's Nick Batt had a great little Q&A bro-down at PLASA 2013. This was the first-ever hands-on public showing of the new StudioLive 16.4.2AI and 24.4.2AI. 
Rodney covers the AI part of the StudioLive AI series in great detail here, and closes with a touch on the new StudioLive AI Loudspeakers. Definitely worth a watch! Thanks to Sonic Sense for bringing Nick, as well as the camera. 
---
[This just in from Christopher McGilvray of Magic Wing Entertainment!]
Ladies and Gentlemen,
My StudioLive 32.4.2AI arrived yesterday, and after a long wait, you came through big time. Thank you. The same quick and familiar workflow on the desk, coupled with the VSL software makes this a world class mixer, for sure. I held out all summer waiting for this board, and as the minutes passed, I have to admit, my mind began to wander to the other options to fill the gap, but after plugging in the power cord and lighting the StudioLive off, I was positive that I had made the right choice to stick by the Presonus equipment. I could not be happier.
During my wait, I was enticed by the alternatives with flying faders like the Si3, but with the seamless integration of VSL and the "fader locate" feature of the StudioLive, those extra servos and belts are no longer an issue! This board has the horsepower and features of mixers at a much higher price point, while keeping the UI simple. I have been hopelessly lost in the endless system menu and setup of the Vi desks, and was going to add breadcrumbs to my FOH bag for my future journeys through that GUI black forest, but instead I can keep a thermos of coffee, and enjoy the mixing, instead of the messing around.
Please do pass along my praises. I got a chance last night to work the new StudioLive at a show, and let me just say "wow." I am familiar with the StudioLive 24.4.2 desk, but Active Integration makes it  the most powerful thing I have used this past season, hands down. As I mentioned, I have been on Soundcraft and Midas consoles this year. Our local venue installed a Peavey 32 FX  (chosen for simplicity, not for any DSP abilities, btw). As a standalone board, the StudioLive 32.4.2AI is powerful! There is so much under the hood of this console that is not seen with the naked eye. Plug in a FW 800 cable to a quad i7 MacBookPro, however, and the desk is ready for anything! Add in SL Remote on iPad, and you have a mixer that is graphical superstation.
I routinely have an opener and a main band, and the mix scenes are a luxury that I also
thank you for. You guys and girls obviously know the deal as to what am FOH guy goes through in switching over acts, and this mixer saves me a minimum of 15 minutes in turn over time due to the scenes option. That is a lifetime in the live world!
Okay, and here is another point where I had to sit back and smile, pleasantly impressed: the built-in effects are spot on. Since I was with a band that I know well last night, I had the chance to tweak and play more then chase the sound all night, and I was so very impressed with the quality of the effects, as well as the effects level control. My experience with mixers of a similar price point have been terrible with regards to DSP engines. The Peavey 32 FX I mentioned earlier is useless in this area; it's like a two-stroke engine trying to pull a trailer uphill when it comes to anything more then some simple EQ. Other hybrid boards as well as other digital boards also get left in the dust by the 32.4.2AI. Call up an effect, assign some inputs to it, send it on an encoder that isn't scratchy or jumpy, and suddenly you can hear a very rich and satisfying reverb or delay gently enter the mix. THAT's the way it should work, and you folks got it right! Delays didn't build up and run away, reverbs didn't sound like tin warehouses, and the crowd didn't need to pound seasick pills by the end of the night. Perfect in my opinion.
I could write a review on this board, but that is not my intent. I really just want to say that as I waited with much anticipation from the announcement at NAMM until the shipment date of this board, I grew to find myself second-guessing and worrying a bit. Last night sealed the deal as far as my decision is concerned, and I am confident that I made the best choice. I knew it in my heart anyway. I have a rack full of FirePods that still serve me very, very well. They kept me in business as far as the recording aspect was concerned between SL boards. Oh, yeah—FW 800 deserves a huge thank you as well. A ThunderBolt option in the future will be a blessing as well, if it is in the cards.
I look forward to driving hell out of this thing. Last night was a 24-channel spin around the neighborhood. When I did need to push it a bit, there was plenty of power to spare.
Well done, folks. You've had me as a loyal customer for a while. Now I am a vocal one, as well, best wishes! On behalf of myself, and the folks involved in my small but extremely passionate live sound company, thanks! PreSonus got this one right from beginning to end. Still looking forward to cooking up the recipe in the manual, too!
Warm regards,
Christopher McGilvray
Magic Wing Entertainment
---
This video was recently uploaded to YouTube by 5aint, A-list producer for The Spice Girls, Pet Shop boys, and many, many others. He recorded this video with his cell phone to document his reaction to hearing the new Sceptre S8 monitors as compared to the Event 2030s and a pair of Yamaha NS-10s.
While the audio quality here is clearly a product of his cell phone's mic, audio quality is not what this video is about. Well, it is about audio quality… but you get my drift. The standout here is 5aint's reaction upon hearing the Sceptres, which starts at around the 8:16 mark. The video below is embedded to begin at that point, but feel free to skip back a bit if you want to see his thoughts on the other speakers.
Suffice it to say; the man's got ears, and they like what they hears. The golden moment includes notable sub-moments like:
"Let's try the PreSonus. Wait, that can't be right. No, it is!"
"What has David done to this design?"
"It sounds like there's a sub on there!"
"Sorry, guys, game over, that's a different world. Feels like it's kicking you."
This is the sort of historical document that simply can't be scripted. It's like baby's first steps, V-J Day in Times Square, and the squirrel photobomb all rolled into one.
Thanks, 5aint!
>
---
I've said it before and I will say it again: you guys did some incredible work. We had so many astonishing submissions to the Why StudioLive video contest that we had to up the ante on our prizes significantly. We had planned to give away two prizes, and expanded this to four big prizes, a dozen copies of Studio One Professional, and a sizeable order of T-shirts that caused a cotton shortage in Kentucky.
Included below are some of our favorites that may not have made the final cut, but certainly cut out a little place in our hearts.
David B's "Why PreSonus StudioLive at LocalMotive Studios" was a close, close contender.
"Why Not Presonus StudioLive?" from T-Bone pitches the StudioLive as exactly what it is: an all-in-one solution. "It's so advanced, but also so simple." This guy really gets it!
Chris' "Get Connected with PreSonus" offers great cinematography, music, and detailed feature walk-through, while also extrapolating upon the mixer's namesake: applications in both Studio and Live use.
Stay tuned for a future post in our next category: Best Comedies and Musicals!
---